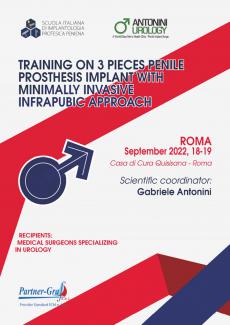 ---
Crediti ECM

---
Destinatari
Il corso è accreditato per medici chirurghi specialisti in: Urologia.
---
Obiettivo
The course is divided into a day of work where theory and practice alternate, carried out directly in the operating room. The small number of participants allows interactivity and very specific learning of the surgical techniques used in the implantation of penile prostheses.
---
Indirizzo

Il numero di posti disponibili è esaurito
---
---
Costo

Il corso è gratuito.
---
Segreteria organizzativa
Partner-Graf